Welcome!
This executive summary presents an overview of EPA's most recent Toxics Release Inventory (TRI) data, based on the detailed information found in EPA's TRI National Analysis website (link opens in a new tab or browser window). Congress established the TRI to ensure that every community is empowered with access to information on the toxic chemicals handled and released at nearby facilities. TRI includes annual data submitted by industry on how chemical wastes are managed, including those that are released to the environment.
The TRI National Analysis is EPA's presentation of the most recent data.
The National Analysis is part of EPA's commitment to transparency and enhances public understanding of the TRI data by:
Summarizing reported data on releases and other waste management practices of toxic chemicals, and providing trend analyses of these data; and
Providing interactive tools that support access to and exploration of TRI data.
Visit the full TRI National Analysis (link opens in a new tab or browser window) to learn more.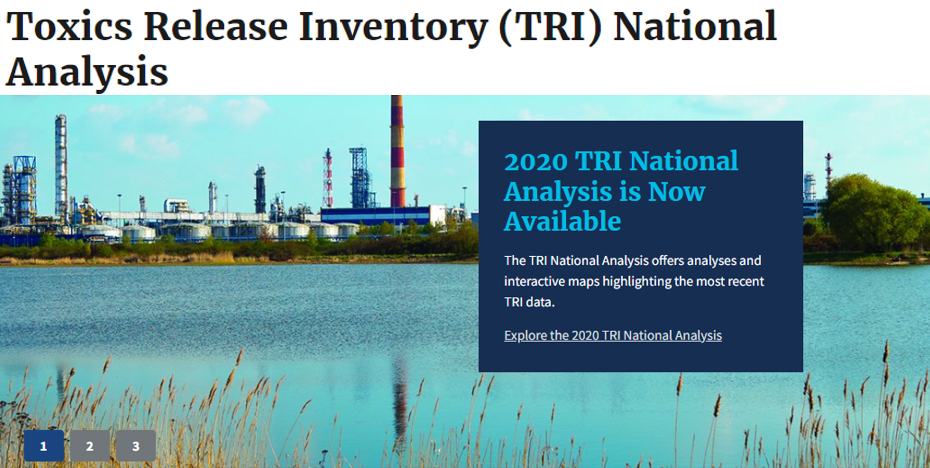 21,022 facilities reported to TRI for 2020.
Facilities in industry sectors such as manufacturing, electric power generation, and mining have until July 1 of each year to submit data from the previous calendar year. These data then undergo quality reviews by EPA. Use this map to see the TRI information submitted by individual facilities.
View the demographics of the communities where TRI facilities are located.
New this year, the TRI National Analysis includes the option to view the "Demographic Index" of the communities where TRI facilities are located. The Demographic Index is a national percentile based on the average of two demographic indicators for the area: Percent People of Color and Percent Low Income. Red, orange, and yellow backgrounds indicate the demographic index is high (i.e., greater than or equal to the 80th percentile) compared to other communities in the country. Blue dots represent TRI facilities. Explore your area by selecting the "Community Profile" option in the Where You Live tool of the TRI National Analysis.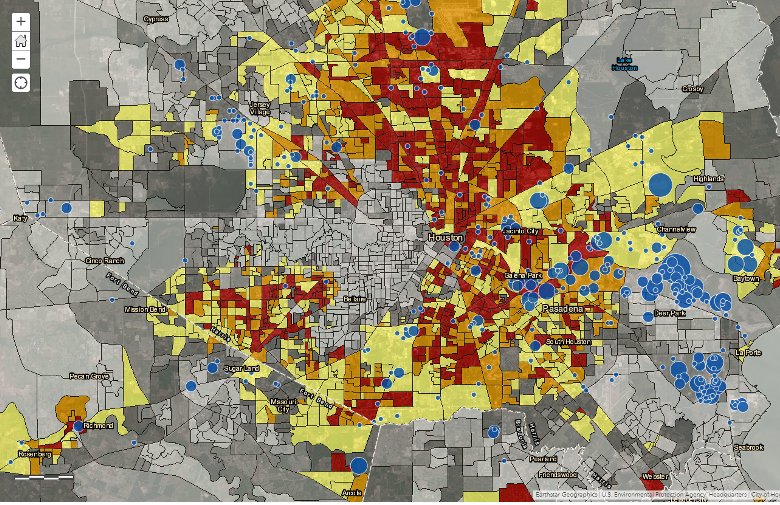 Since 2011, releases to the environment have decreased by 27%, driven by declining releases to land and air.
For 2020, TRI facilities reported 3.0 billion pounds of releases to air, water, and land.

Land disposal, largely from metal mining, accounted for 64% of releases.

From 2019 to 2020, releases of TRI chemicals decreased by 10% (343 million pounds).

Please note that the most recent TRI dataset reflects TRI chemical waste management activities, including releases, that occurred during calendar year 2020 and therefore may have been impacted by the COVID-19 public health emergency that began in the U.S. in early 2020.

Learn more about releases reported to TRI (link opens in a new tab or browser window).
Air emissions reported to TRI continue to decline, serving as one driver of decreased total releases.
Air releases decreased by 34% (277 million pounds) from 2011 to 2020.
Almost all sectors reduced their air emissions since 2011, with the largest reduction coming from the electric utilities sector.

The decrease was driven by electric utilities due to: decreased emissions of hydrochloric acid and sulfuric acid; a shift from coal to other fuel sources (e.g., natural gas); and the installation of control technologies at coal-fired power plants.

Releases to air of ammonia, methanol and sulfuric acid accounted for almost half of all air emissions reported to TRI for 2020.
Learn more about air emissions reported to TRI (link opens in a new tab or browser window).
TRI facilities implemented 2,779 new source reduction activities in 2020 to reduce pollution at its source.
Source reduction success stories presented in the National Analysis highlight effective practices that other facilities can replicate. EPA's TRI Pollution Prevention (P2) Search Tool (link opens in a new tab or browser window) promotes these opportunities for knowledge transfer by allowing users to search for source reduction activities that might be relevant to their operations.
The figure summarizes the most frequently reported source reduction activities for the chemicals and industry sectors with the highest source reduction reporting rates over the last 5 years. For these chemicals and industries, good operating practices is the most commonly reported source reduction category.
Learn more about source reduction activities reported to TRI (link opens in a new tab or browser window).
89% of the TRI chemical waste that facilities managed was not released due to preferred waste management practices such as recycling.
In addition to quantities released, facilities report the quantities of TRI-listed chemicals that they manage through preferred methods including recycling, combusting for energy recovery, and treatment.
Since 2011, production-related waste managed increased by 5.0 billion pounds (22%), driven by increased recycling.
Learn more about waste management practices reported to TRI (link opens in a new tab or browser window).
Each year, the TRI National Analysis examines key industry sectors.
Choose from the industry sectors to the right to learn more about their TRI releases.
Since 2011, releases by manufacturing facilities decreased by 11%. This is primarily due to reductions in emissions to air releases, although releases to all media decreased.
Manufacturing facilities reported initiating more than 2,600 new source reduction activities during 2020 to reduce TRI chemical use and waste generation.
Learn more about sector-level TRI reporting (link opens in a new tab or browser window).
Chemical manufacturing facilities convert raw materials into thousands of different products, including basic chemicals, products used by other manufacturers (such as synthetic fibers, plastics, and pigments), pesticides, and cosmetics, to name a few.
Since 2011, releases by the chemical manufacturing sector decreased by 2%.
Although chemical manufacturing has consistently been the sector with the most production-related waste managed, 8% of facilities in this sector reported initiating source reduction activities in 2020.
Facilities in the cement manufacturing sector produce cement, a binding agent that when mixed with water, sand, and gravel or crushed stone forms the rock-like mass known as concrete. Concrete, in turn, is used in highway, commercial, and residential construction projects.
The cement manufacturing sector commonly uses waste from other facilities, such as used solvents, as fuel in kilns. The sector managed 94% of its waste by combustion for energy recovery in 2020.

Although relatively few facilities in the sector report to TRI (‹1% of all TRI-reporting facilities), the sector accounted for 12% of all waste combusted for energy recovery reported to TRI for 2020.

Most releases from the sector are air releases. Releases fluctuated between 2011 and 2020, with an overall decrease of 548,000 pounds (9%).
In metal mining, the extraction and processing of minerals generates large amounts of TRI chemical waste, including in waste rock, which is disposed of at the mine. The TRI chemicals reported as released by metal mines are often metals and metal compounds that are on the TRI chemical list and that are found in the mined material - primarily lead compounds, zinc compounds, and arsenic compounds.
From 2011 to 2020, more than 99% of the metal mining sector's releases were in the form of on-site land disposal. The quantity of on-site land disposal by metal mines has fluctuated in recent years.
In 2020, the metal mining sector reported the largest quantity of total disposal or other releases, accounting for 45% of total TRI releases and 70% of on-site land disposal for all industries.
Electric utilities generate, transmit, and distribute electric power. Electric-generating facilities use a variety of fuels to generate electricity; however, only those electricity generating facilities that combust coal or oil to generate power for distribution in commerce are subject to TRI reporting requirements.
Releases from the electric utilities sector decreased by 63% since 2011. This decrease was driven by a 77% (199-million-pound) decrease in air releases and a 58% (166-million-pound) decrease in on-site land disposal.
From 2019 to 2020, releases by electric utilities decreased by 22%, driven by reductions in on-site land disposal of barium compounds and on-site air releases of sulfuric acid and hydrochloric acid.